THE MUCH AWAITED KAWAII TAIWAN SPREE IS HERE GIRLS!

MOST KAWAII QQ SPREE CLOTHINGS HAVE ARRIVED!! SO HERE COME OUR NEXT SPREE KAWAII TAIWAN SPREE!


SPREE WILL END ON 31 ST AUGUST! minimum order of 20 orders or spree will be cancelled!


goods are all imported from taiwan! PLEASE NOTE THAT FOR TAIWAN IMPORTS IT TAKES ROUGHLY 2-3 WEEKS TO ARRIVE TO SINGAPORE! SO IF YOU DON'T HAVE MUCH PATIENCE TO WAIT FOR YOUR CLOTHINGS PLEASE DO NOT JOIN THIS SPREE! thanks!once payment is make,money will not be refunded!


also, prices of clothings are inclusive of shipping fees! so no worries girls!


if you have any interest in any of the clothings please email to kawaii-cutieforever@hotmail.com in the following format!


NAME:

ADDRESS:

CONTACT NUMBER:

ITEMS QUOTE:

TYPE OF PAYMENT:


or feel free to email us if you have any enquries about anything! (: will be glad to reply your emails!


ITEM QUOTE: CUTE ELEPHANT TANK TOP


PRICE: $17


COLOUR AVAILABLE: DARK PINK with black outlined,YELLOW with green outlined,White with yellow outlined,Light pink with red outlined(model is wearing it)


Size: Free


HOT SELLING ITEM!


ITEM QUOTE: KAWAII OFF-SHOULDER TOP(can be wore two sides;the back can be wore as the front;the front also can be wore as the back)


COLOUR: WHITE ONLY


PRICE: $20


SIZE: FREE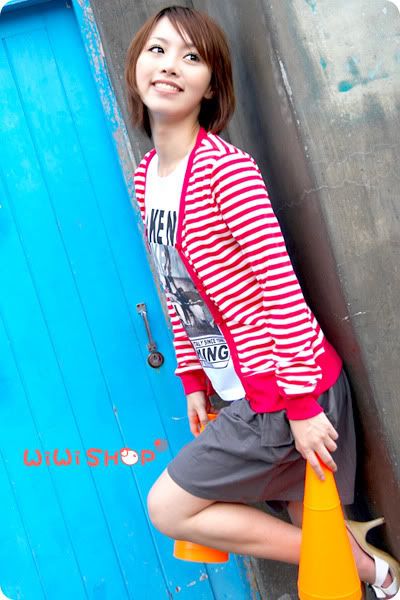 ITEM QUOTE: LONG SLEEVE STRIPES CARDIGAN


PRICE: $20


COLOURS: BLACK,LIGHT PINK,PINK,GREY,DARK BLUE


SIZE: FREE


ITEM QUOTE: LOOSE OFF SHOULDER BLOUSE


PRICE: $18


COLOURS: YELLOW,BLUE,HOT PINK,BLACK,GREY,LIGHT BLUE,RED


SIZE: FREE(stretchable)


ITEM QUOTE: LONG-SLEEVED CARDIGAN WITH COLOURFUL BUTTONS


COLOURS: WHITE,GREY,HOT PINK,PINK,BLACK,PURPLE


PRICE: $22


SIZE: FREE


ITEM QUOTE: ASSORTMENT COLOURS OF BIKINI TOP


COLOURS: BLACK,GREY,PINK,WHITE,BLUE,YELLOW


PRICE: $13


SIZE: FREE(no fixed sizes)


ITEM QUOTE: SIMPLE NICE BLOUSE + FREE SAILOR BADGE


PRICE: $20


COLOURS: BLUE,WHITE,BLACK,PINK


SIZE: FREE


ITEM QUOTE: SHORT SLEEVE STRIPES WITH BUTTONS BLOUSE


PRICE: $19


COLOURS: GREY/BLACK


SIZE: FREE


ITEM QUOTE: COLOURFUL GOLD PRINTING SHORTS


PRICE: $12


SIZE: FREE(STRETCHABLE)


ITEM QUOTE: KAWAII ZEBRA STRIPES WITH DIFFERENT COLOURS BLOUSE


PRICE: $19


COLOURS: PINK,WHITE,BLACK,GREY


SIZE: FREE


ITEM QUOTE: BAGGY BAGGY KNEEL LENGTH PANTS


PRICE: $19


COLOURS: GREY,BLACK,PURPLE,PINK,BLUE


SIZE: FREE(STRETCHABLE)


ITEM QUOTE: 2-PIECE JUMPER DRESS(shirt inside is included)


PRICE: $23


COLOURS: GREY ONLY


SIZE: FREE


ITEM QUOTE: STRIPES OFF SHOULDER BLOUSE


COLOURS: GREY,BLUE,WHITE,PINK


PRICE: $20


SIZE: FREE


ITEM QUOTE: PUFFY PANTS


COLOURS: DARK YELLOW,WHITE,BLACK


PRICE: $16


SIZE: FREE (STRETCHABLE)


ITEM QUOTE: KAWAII SHORT PANTS


COLOURS: HOT PINK,GREEN,WHITE,BLACK,DARK GREEN


PRICE: $16


SIZE: FREE(STRETCHABLE)


ITEM QUOTE: TRENDY CARDIGAN


COLOURS: YELLOW,WHITE,LIGHT GREY,DARK GREY,HOT PINK,RED


PRICE: $23


SIZE: FREE


ITEM QUOTE: POKKA DOTS WITH RIBBON BLOUSE


COLOURS: ONE COLOUR ONLY


PRICE: $26


ITEM QUOTE: SAILOR BLOUSE


COLOURS: BLUE/WHITE


PRICE: $19


SIZE: FREE


ITEM QUOTE: SLEEVELESS STRIPE SHIRT


COLOURS: BLACK with GREY STRIPES OR BLACK WITH WHITE STRIPES


PRICE: $17


SIZE: FREE


ITEM QUOTE: SIMPLE LONG SLEEVE CARDIGAN + FREE DOG BADGE


COLOURS: WHITE,BLACK,YELLOW,GREY,PINK


PRICE: $22


SIZE: FREE


ITEM QUOTE: BEAR BEAR BATTLE SHIRT


COLOURS: BLACK/WHITE


PRICE: $21


ITEM QUOTE: BLACK CROWN GOLD PRINTING SHIRT


COLOURS: WHITE/BLACK


PRICE: $21


SIZE: FREE


ITEM QUOTE: TUNIC TOP


PRICE: $21


COLOURS: HOT PINK,GREY,WHITE


SIZE: FREE


ITEM QUOTE: SIMPLE JACKET


PRICE: $16


COLOURS: PURPLE,RED,BLUE,YELLOW,WHITE,PINK,DARK BLUE


SIZE: FREE


ITEM QUOTE: 2-PIECE DRESS(the black shirt inside is included too)


PRICE: $19


COLOURS: ONE ONLY


SIZE: FREE SIZE

AMANDA( 2-PIECE JUMPER DRESS(shirt inside is included and 2-PIECE DRESS(the black shirt inside is included too)